On June 10th the Agiloft team flew down to Houston, Texas to host the Southwest Roundtable. The infamous Houston weather welcomed us with a manageable 95 degrees Fahrenheit, and thanks to our generous co-host, Houston-Galveston Area Council, the event was a notable success.
The Roundtable kicked off Monday night with dinner and margaritas at Armandos restaurant.
On Tuesday morning, Roundtable attendees gathered at Houston-Galveston Area Council's headquarters, where Agiloft CEO Colin Earl started off with opening remarks while Agiloft marketing vice president Hiro Notaney led the event as MC.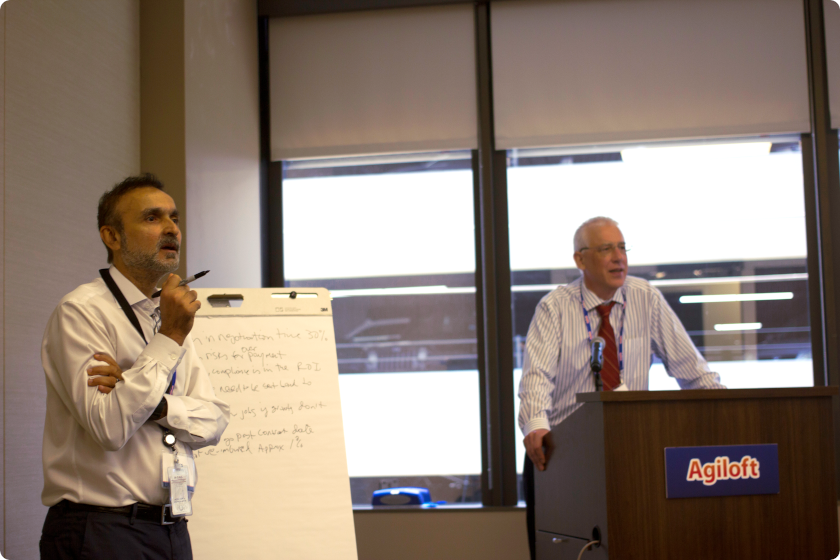 The CFO of Houston-Galveston Area Council, Nancy Haussler, presented first, sharing her organization's previous challenges around contract inconsistencies, manual signatures and review processes, and contract status tracking. Even more pressing were the expensive legal costs of contract administration and compliance. Nancy described how Agiloft streamlined workflows, allowing the organization to easily meet compliance requirements and take pressure off their legal department.
Next, Agiloft product manager Eric Novikoff gave an overview of Agiloft's development process and how it impacts enhancements and the product roadmap. Eric also highlighted the most exciting advancement, the AI Core. As AI looks for patterns, compliance and legal teams will have a new tool to decrease risk without the drudgery of manual search and reporting. Just like other Agiloft applications, the AI Core will be highly configurable and built on our no-code platform, so business users can tailor the technology to suit their needs.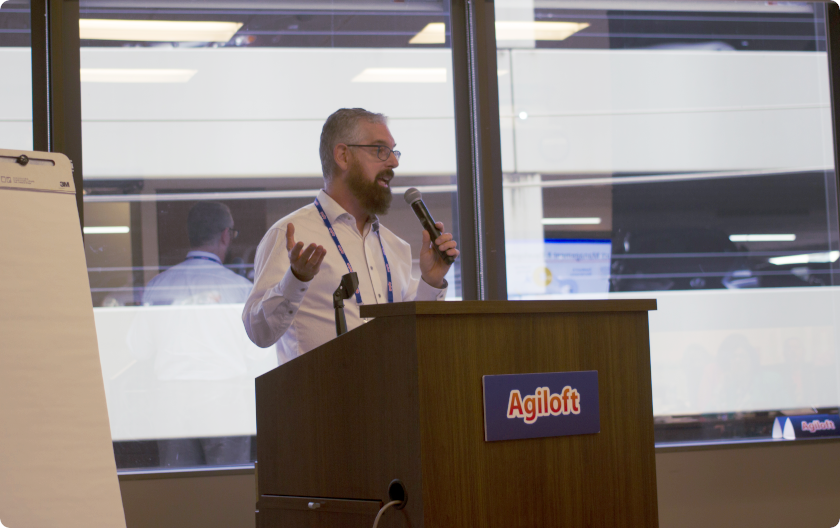 Senior Agiloft implementer Craig Gordon was up next and provided a demonstration of some of the newest enhancements from Agiloft's 2019 Spring Release. Attendees were most excited about diagram fields that make it easy to find contract relationships.
After Craig's demo, Colin Earl returned to the stage to speak on the ROI of contract and commerce lifecycle management (CCLM) software.
Customers and analysts often struggle to understand the ROI of CCLM software, as its ability to mitigate compliance and security risk is considered more important. But the value of easily meeting strict compliance standards and security policies varies. For example: what's the value of meeting regulatory requirements and keeping data secure?
But contract and commerce lifecycle management offers more than security and compliance. Increased operational efficiency with CCLM software cuts down on costs by decreasing friction between departments when processing contracts. To learn more about ROI of CCLM software, watch our webinar with IACCM here.
Justin West of Spectrum Mobility, an Agiloft platinum partner, presented case studies on two of their most complex implementations. Similar to Houston-Galveston Area Council, both companies previously lost money due to expensive contract renegotiations after deadlines were missed due to convoluted workflows. Through highly granular permission systems and tight workflows, both companies were able to cut legal costs and increase transparency, along with increasing user satisfaction.
As a more intimate event than our Advisory Council in Redwood Shores, the Agiloft team was able to go more in depth with attendees on their questions and feedback. It was great to speak with Agiloft users face-to-face and hear our attendee's different perspectives. The entire Agiloft team thanks Nacy Haussler and Houston-Galveston Area Council for their hospitality and help putting on this customer roundtable.
Join us at our next event, Agiloft Summit 2019, in Las Vegas on October 22-23 for in-depth Agiloft training, inspiring breakouts on emerging technology, and networking with market leaders from a wide variety of industries.
If you're interested in hosting a roundtable, please contact Emma Seyer at emma.seyer@agiloft.com.