This week Agiloft launched its Sourcing and Supplier Information Management add-on, an extension of our core contract lifecycle management (CLM) solution. To kick off the product launch, Agiloft chief product officer Andy Wishart hosted a webinar and demo with platform solutions manager Sanket Baxi. You can watch this webinar replay below.
We developed this module because our customers, particularly sourcing professionals, are facing ever-growing challenges and demands, and siloed systems have historically slowed down the supplier onboarding and source-to-contract process. This new Sourcing and Supplier Information Management module brings sourcing into Agiloft's flexible CLM solution to enable agility in the sourcing process.
Why develop sourcing and supplier management software?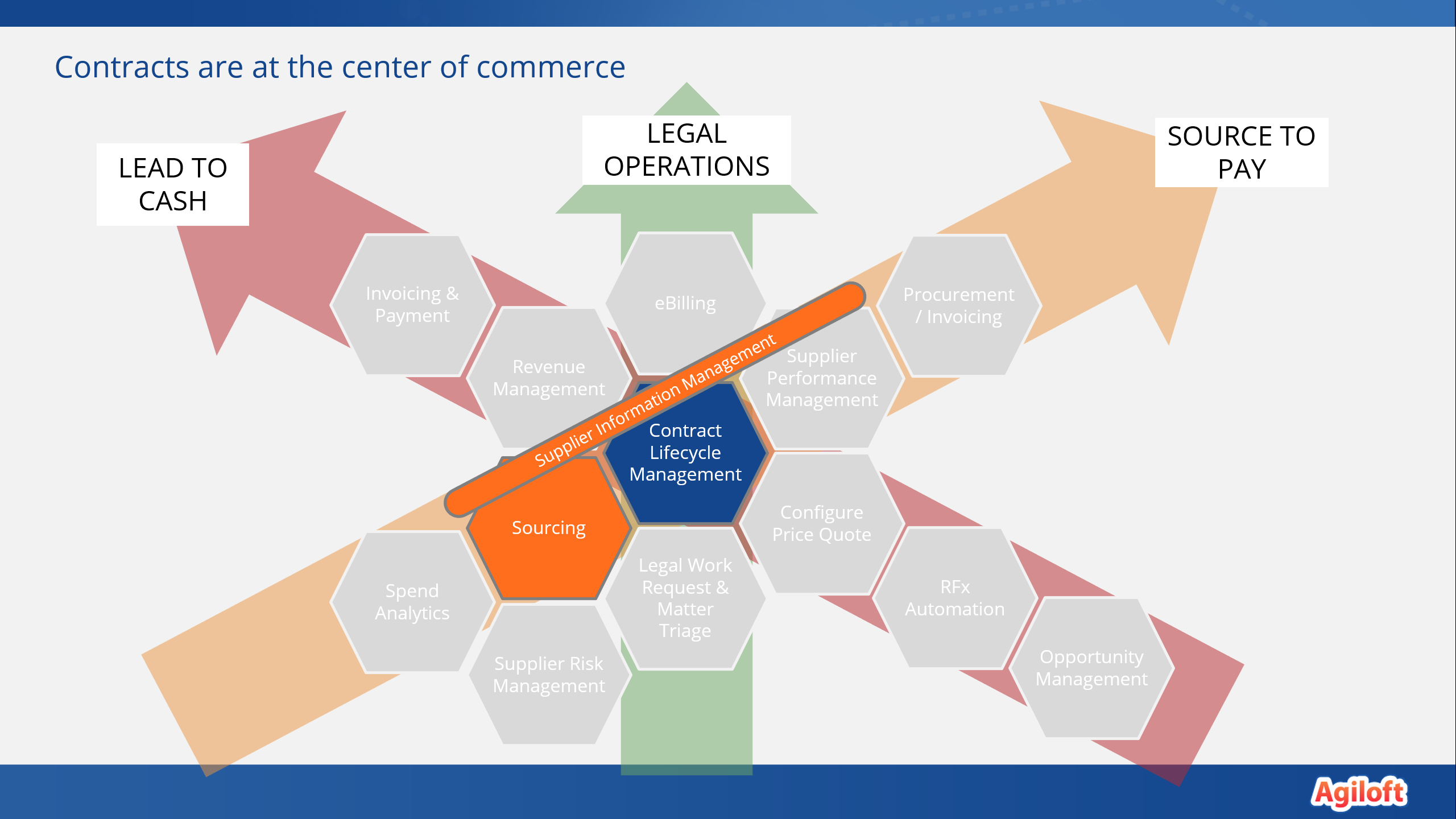 To answer this, we have to look at the bigger picture of where contracting sits in the enterprise, which is at the center of commerce. As you can see in the above slide, sourcing and supplier management is just one piece of the larger commercial ecosystem. In this product release, we have focused on the events on the buy side leading to the contracting process and also leading from the contracting process. To do this we started to dig into understanding some of the challenges that procurement and sourcing professionals are experiencing in these areas of the Source to Pay business process.
We discovered while talking to customers that sourcing and procurement professionals are under pressure to consolidate the number of suppliers they work with to reduce complexity and gain greater buying power. For many, there is also a pressure to perform, while existing sourcing processes are complex and often manual.
Additionally, sourcing teams are under pressure to optimize spend, and sometimes that means trawling through contracts to uncover volume discount opportunities. Sourcing teams are also under pressure to do their detailed due diligence to help stakeholders select the right supplier—not just one that can deliver on the goods or service, but also one which meets the ever-changing compliance requirements of the buyer.
Lastly, siloed data in multiple systems makes it difficult to optimize the sourcing and contracting process. Different user experiences make it difficult for procurement and sourcing professionals to optimize the larger source to contract process.
How can Sourcing and Supplier Information Management help?
This module, when used in conjunction with our extensible CLM platform, gives sourcing and procurement departments the tools to:
Improve decision-making by centralizing and streamlining the source-to-contract process. Users can create standardized templates with pre-approved language for RFIs, RFPs, and RFQs.
Save time and automate supplier information management by allowing prospective suppliers to register and provide information through the portal and gather responses on security, diversity, and business criteria.
Tap into Agiloft's unified source-to-contract CLM platform to quickly identify existing suppliers. Gain visibility into supplier relationships and contracts across your company, including viewing terms, scope, pricing, and volume discounts.
Download the Sourcing and Supplier Information Management datasheet to learn more about how this CLM add-on can streamline your sourcing process and boost revenue.
Webinar Replay: Sourcing and Supplier Information Management product release
Watch below for a demo and webinar of our latest CLM add-on module:
If you'd like to learn more about this module and how it can help your organization, visit the product page or sign up for a customize demo.