In this week's webinar, we talked with Matt Latham, purchasing manager at Amerisure Mutual Insurance Company about how he transformed his organization with automated contract lifecycle management (CLM) software. Matt was able to implement CLM to bring visibility and cohesion to the company's procurement process. Using automated CLM gives Amerisure a single source of truth with vendor contracts and agreements, and sets up standard workflows for attorneys, contract managers, and others to follow when onboarding or evaluating vendors and suppliers. Watch the webinar replay to learn how Matt selected a CLM system, how he built a business case for the software, and the value and benefits of a successful implementation.
In the webinar, Matt outlined three lessons learned during the CLM implementation, which may help anyone looking to deploy contract management software for procurement or any other business process.
Gather data, not anecdotes
If you're ready to begin the process of CLM implementation, the first place to start is with the data. Everyone has stories of contract negotiations that went horribly wrong or a sourcing that took way longer than it should have. There are always stories and anecdotes. But you should look into the data. How long is it taking you to get contracts through on average? And if you can, where is that time being wasted?
Matt says, "If I were to look at the data before a CLM system, it would likely be a 50/50 split between the time a contract sits with our legal team and the time it sits with the vendor. After deploying CLM, it is closer to a 70/30 split, spending only 30 percent of the time with the legal team and in the hands of the vendor probably 70 percent of the time. Look at those areas where you want to gain those efficiencies, and that helps form the focus on how you want to implement."
Choose an agile application because things change
Matt recommends looking for a CLM that has the features that you need today but has a strong look toward the future and innovative roadmap. Since the system is being used for business transformation, Amerisure needed something with a strong roadmap going forward to be able to grow with the company's plan.
Additionally, it's important to decide who you want to own the configuration changes to the system going forward. Choosing a no-code, agile system like Agiloft allows your business users to have more control over how the system works because the changes can be made by business users without using IT resources. Matt chose this route with Agiloft and has been able to manage configurations for his company without going to IT or asking Agiloft to assist. This has enabled a much more adaptable procurement process because he can quickly make changes for his team without writing any code.
Ask the right questions
When asking your team what is most important for launching a minimal viable product, make sure you're asking the right questions. Matt's team decided not to upload 2,000+ existing contracts into the CLM system because they knew the contracts coming into the system would be amendments or renewals of these contracts. Over the course of a few months, these contracts will be brought into the system as a parent agreement to the updated or renewed contract. They wanted to start using the system right away, so they did not do any data migration to begin the implementation. This was done because they asked at the beginning what was most important, and the answer was to start using the system and building the CLM knowledge right away.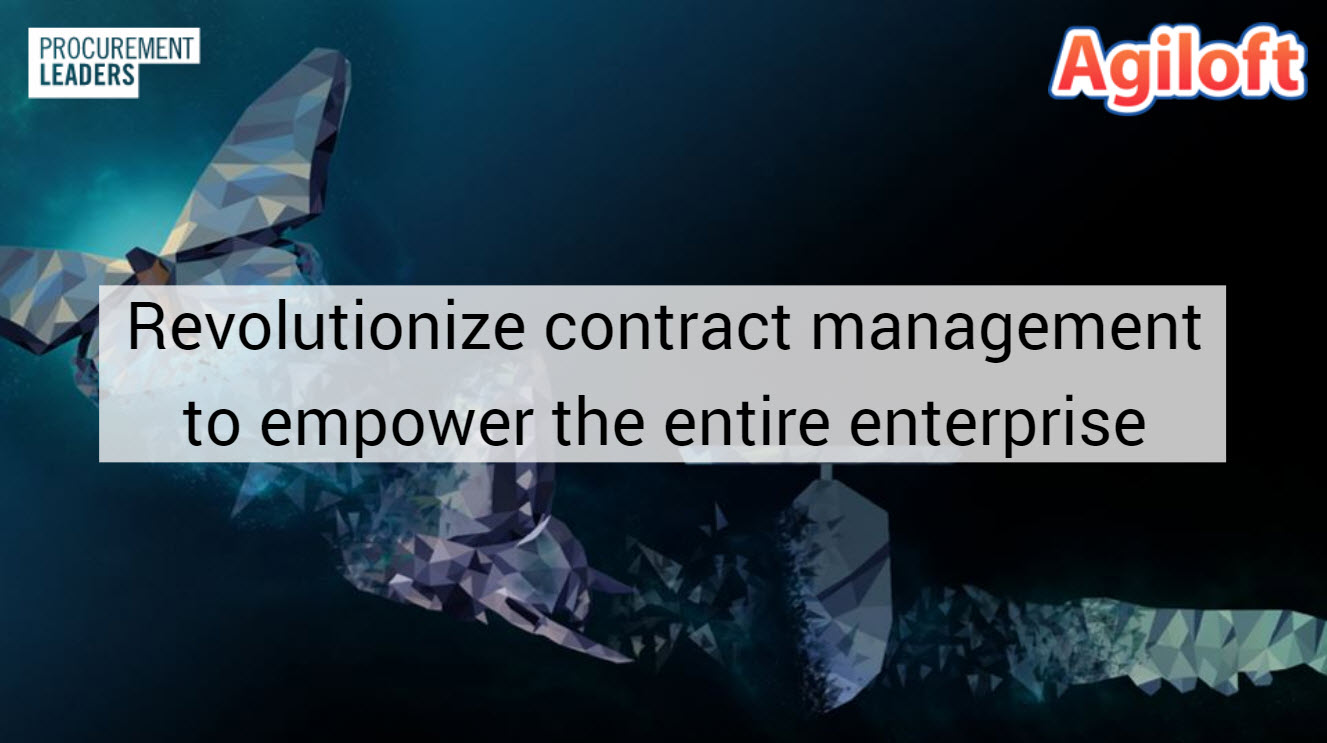 This was a summary of part a webinar hosted by Procurement Leaders on August 27th titled "Revolutionizing Contract Management to Empower the Entire Enterprise." To watch the full webinar replay, click here.
To see our full list of upcoming and past webinar, please view our events page.