We are finally back from IACCM's APAC 2019 Conference in Sydney, Australia and would like to share the highlights from our trip down under. This event was another great gathering of members from the International Association for Contract and Commercial Management (IACCM), and 2019 is IACCM's 20th anniversary of enabling organizations to achieve world-class standards in their trading relationships. After three days in Sydney with contract professionals, we can confirm that IACCM is still firmly rooted in that mission. The following is what we learned, saw, and took away from the conference.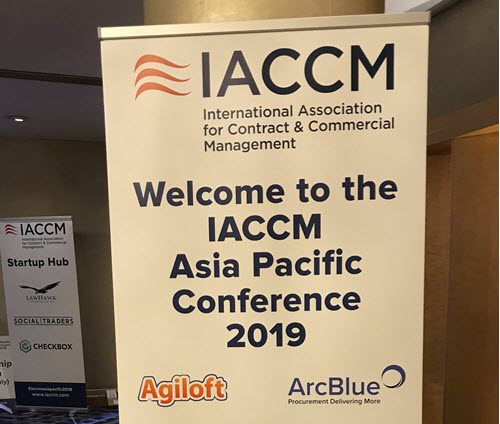 Transparency is key for contracts
This conference was focused specifically on transparency, which is essential to enable trusting relationships on both sides of a contract. Several sessions and workshops were centered around transparency, including one series called "Making contracting open by design" which discussed the "information you need access to in order to make decisions, pain points in current contracting processes, and how and why you are using transparency to deliver better results through contracting."
Transparency is of upmost importance to us because we are passionate about enabling more effective contract management for our customers while simultaneously providing proper access permissions, data security, and auditability.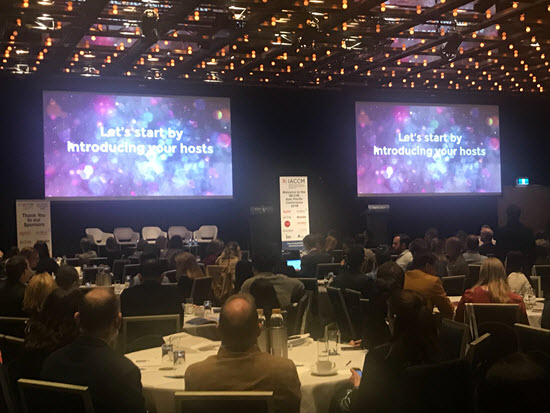 Diverse speakers=diverse ideas
The conference also had a diverse list of speakers in different roles from business to technical to legal and from a wide variety of industries including government, military, fortune 500, and SMBs. This was useful because every attendee could benefit from the sessions and get an idea of how other users and companies benefit from an effective CLM system. One session was particularly interested as it explained how companies are incorporating AI and chat bots to provide contract answers and even generate templates for users.
Always keep your shoes shined
While it was a surprise, the sponsored shoe shiner in the main hall was a big hit at this year's conference. Since we're from Silicon Valley, CA (picture: sandals and t-shirts) we never thought too much about the level of shine on our shoes, but after IACCM APAC we will always keep our shoes shined for a demo. In addition to the shoeshine stand, the first night at the Sofitel Hemsworth Hotel included drinks, music, and lots of great conversations about the importance of good contracting in today's digital business landscape.
Thomas Brubach, Sales Engineer, and Alastar Kerpel, Marketing and PR Manager, welcoming the crowd at the Agiloft booth.
We are built for speed
As a proud conference sponsor, Agiloft participated in IACCM's Speed Tech Demo the morning of day two. While attendees traveled around the room, each vendor sponsor gave quick, 10-minute demos of their product. We excelled in this format due to Agiloft's easy-to-navigate GUI interface and extremely configurable no-code platform, which reduces implementation time by 80-percent of traditional software and allows us to offer a 100% satisfaction guarantee on our software and services. Between that and our current and upcoming AI capabilities, Agiloft was very well received by the attendees and we were happy to meet several new contacts eager to know more about Agiloft.
Always say yes to a good mixer
We also sponsored an exciting mixer on night two of the conference called "Emerging Technology and Automation." Again, attendees traveled around the room to different stations where they drew questions out of a hat for the vendors to answer. These were our questions from the crowd:
1) What other benefits does automation bring to contract management besides cost-savings?
2) What are the trade-offs between custom coding and systems that run on no-code platforms?
3) What's the role of business process management solutions in contract management?
4) Which contract management processes should be automated? And which shouldn't?
5) How can automation help you realize the benefits of the contracts your procurement or legal department handles?
This activity sparked many interesting conversations about the future of contract management and automation while attendees imbibed on appetizers and cocktails.
IACCM continues to raise the bar
After 20 years of contracting excellence, IACCM and its members around the world continue to grow and foster important conversations at these conferences. We would like to thank Bruce Everett, IACCM APAC President, for hosting us in Sydney and putting on such a great event. We will be back next year!
For more on how Agiloft can automate your contract management and other critical business process, please reach out to our product specialists or schedule a customized demo.