Last week Agiloft hosted featured speaker Andrew Bartels, VP and Principal Analyst at Forrester Research, for a webinar discussing how organizations can get more value from contracts, or "elevate contracts" into actionable data to be utilized across the entire enterprise. Bartels was hosted by Andy Wishart, Agiloft CPO, who shared his insight on Agiloft's no-code CLM platform and how this can be transformational for organizations looking for adaptable contract management software that can grow with the pace of business. You can watch the full webinar replay below.
Contracts are grossly under utilized
Businesses have run on contracts for centuries, but once signed, contracts often sit unused in a file cabinet or hard drive. Contract data provides significant value, and contract solutions now allow organizations to elevate contracts into accessible and actionable data for sales, legal, procurement, and across the enterprise. But how can organizations achieve this and what is the impact on business?
This webinar answered this question while covering the following points:
What is the business case for contract lifecycle management (CLM)?
Who are the key stakeholders involved in CLM?
What is the role of workflow in CLM systems?
How to elevate contracts and link CLM to other enterprise systems
How to quantify the business value of CLM
Our mission: Elevate Contracts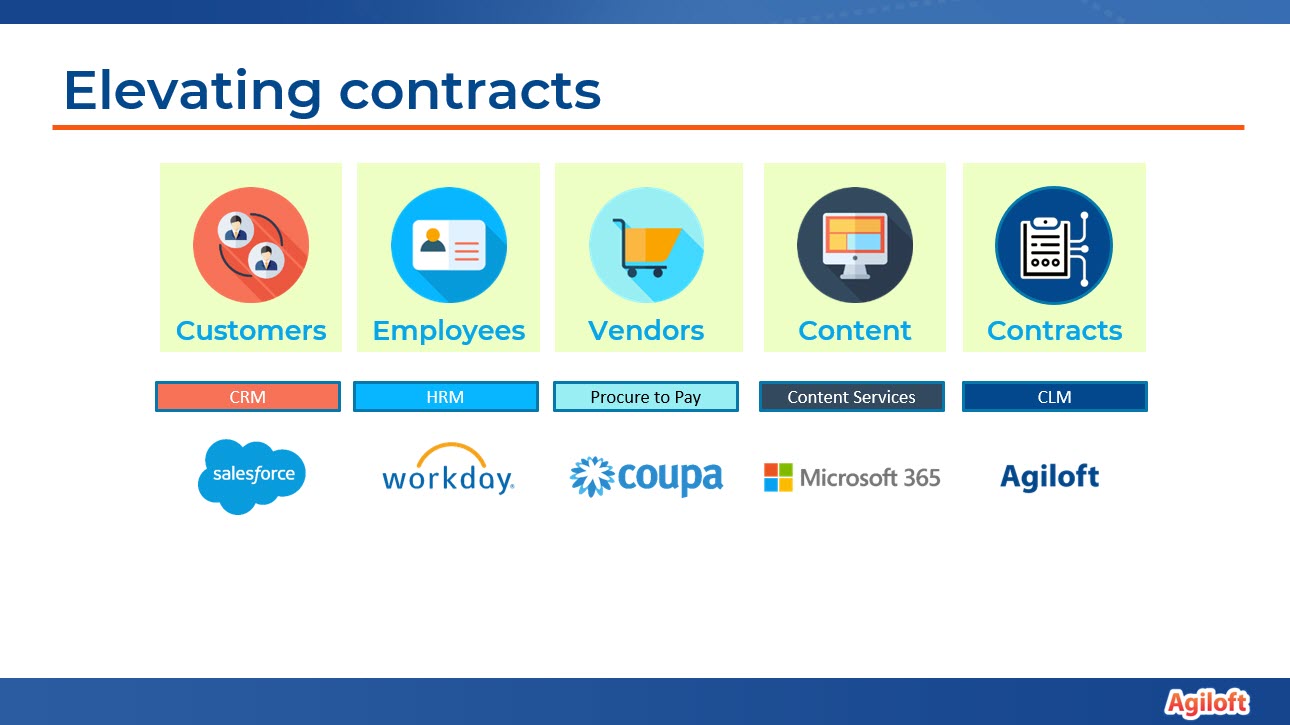 "It's our mission at Agiloft to help organizations elevate contracts to that same level of importance as these other assets and systems of record and to make contracts universally connected across the enterprise. That has to include connecting to these other systems of record and content systems as well." – Andy Wishart, Agiloft Chief Product Officer
To learn more, please watch the webinar replay below:
Are you interested in Agiloft webinars? See our schedule and watch all past webinars on our Events and Webinars page here.