Agiloft was recently named a 'Champion' in SoftwareReviews' 2020 Business Process Management Emotional Footprint Awards, scoring high in customer experience and configurability. Powered by InfoTech, SoftwareReviews is a leading provider of expertise and insight into the enterprise software landscape. This award is based 100% on user review data and is aggregated across 26 dimensions of the vendor-client relationship and product effectiveness.
SoftwareReviews says:
"The Emotional Footprint Awards, an initiative proudly founded in 100% user-review data, is free of traditional components such as market presence and analyst opinion, which are opaque in nature and may be influenced by vendor pressure, financial or otherwise." Read SoftwareReviews' press release here.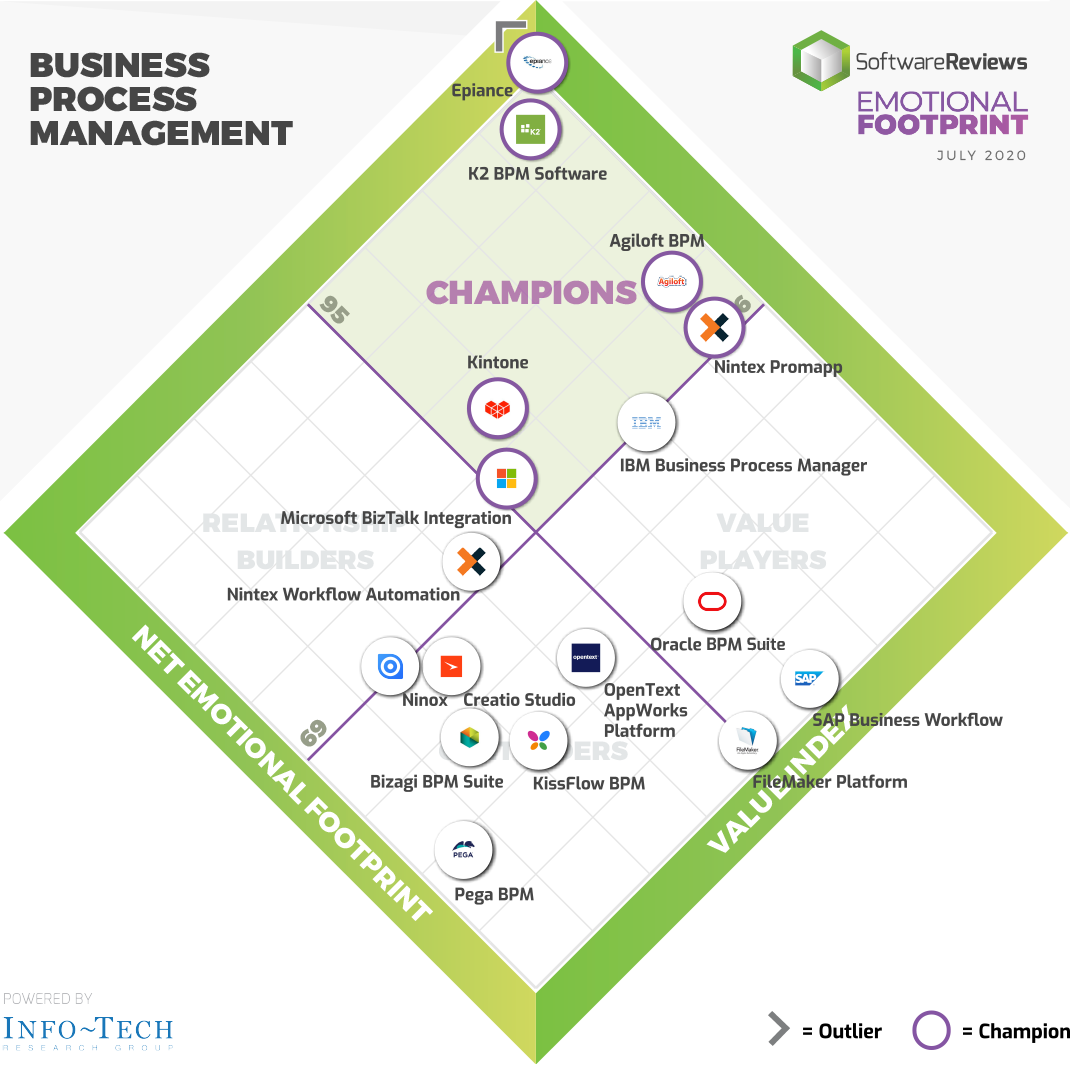 Agiloft's business process management (BPM) software earned a net Emotional Footprint score of +85 and delighted its users in 18 areas. Of Agiloft, SoftwareReviews.com says "Increase organizational agility, optimize efficiency, and improve performance with Agile BPM that dynamically adapts to evolving business needs. Administrators can make deep configuration changes using only a browser, so there's no need to bring in programmers every time your process changes." Read the full report here.
With Agiloft's no-code platform, organizations can quickly create and adapt agile workflows, project management, and BPM software to fit any business need. The extreme configurability is well suited for managing regulatory compliance or automating GRC where requirements frequently change and the stakes for errors are high. This was the case with Chevron's custom compliance workflow, and you can read the customer success story here.
What Agiloft has discovered in the last few years is that many businesses have a need for a custom workflow process that also integrates with advanced contract management to reach beyond GRC, BPM, or compliance into sales, legal, procurement, and even IT. We call this methodology contract and commerce lifecycle management (CCLM), and it starts with AI-powered contract management and then brings surrounding commercial processes into the solution. The effect of CCLM puts contracts at the core of all commercial activity and uses them to document and drive value across the entire organization.
Learn more about Agiloft CCLM and BPM on the blog:
Let's put a SOX in it—burdensome compliance systems still rule after 16 years
What is CCLM? Defining Contract and Commerce Lifecycle Management
Why objections to business automation just don't add up