To say the world has turned upside down in the last six months would be a massive understatement. With supply chains in disarray and organizations redrawing plans for 2020, you would expect enterprises to tighten their belts and refrain from investing money in technology projects. This has been true for some, but some business leaders have leaned heavily into digital transformation initiatives, including deploying contract lifecycle management software. For some organizations, once business leaders began to realize that working from home was going to keep the business running, digital transformation accelerated. About this acceleration, CEO of Microsoft, Satya Nadella, said, "As COVID impacts every aspect of our lives, we've seen two years of digital transformation in two months." But what is the deciding factor for organizations that decide to go all-in on technology despite the uncertainty of the pandemic?
This was the case with IT and software service giant, CDW, who rolled out a new contract lifecycle management system in May 2020. In our latest webinar, Stephanie Santander, Director of Programs and Contracts at CDW, discussed the decision to keep their contract transformation on track because their current system, IBM Emptoris, was sunsetting and CDW needed to look at contracts more closely. Stephanie walked through their process of selecting Agiloft's no-code CLM software, as well as the short-term benefits the solution provides sales staff and the entire enterprise, which includes a 42% improvement on time spent processing contracts.
Watch the full webinar titled 'How CDW Transformed its Contracting Process During a Global Crisis' below:
The main barrier to implementing CLM
This webinar provided great lessons on how to automate enterprise contracts during the pandemic, but it also provided an illuminating insight into the real-life barriers to deploying CLM software in organizations today. We polled the audience (mostly IACCM members) asking the below question: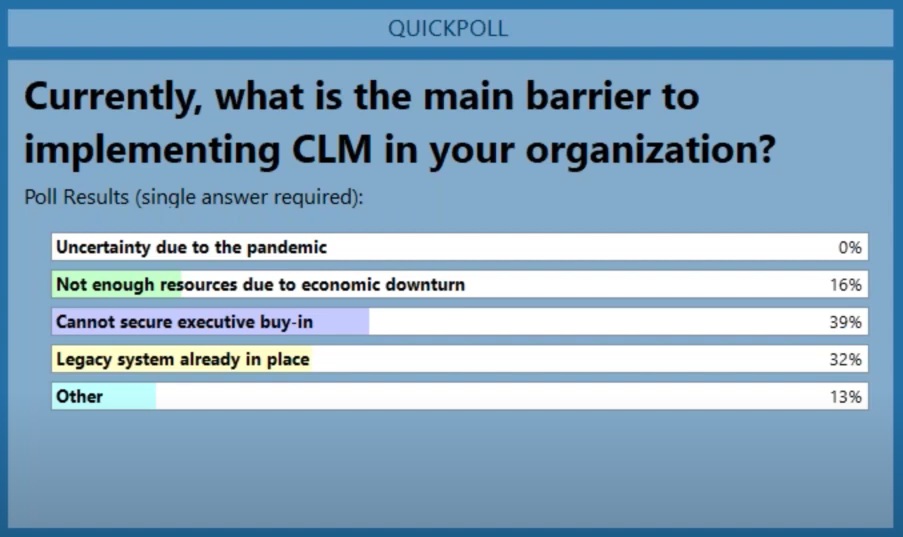 Surprisingly, 39% of attendees said the main barrier to implementing CLM is "Cannot secure executive buy-in." This was a known issue for those interested in CLM software, but we would have guessed uncertainty due to the pandemic would have a bigger impact on this decision. To us, this says that the attendees know the importance and benefits available with CLM, but need help convincing high-level stakeholders of that value.
We will be focusing on this issue in our upcoming webinars starting with next week's webinar with Russell Investments. In this webinar, transactions attorney Morgan Walt will discuss how she used Agiloft to digitize the global investment solutions company's contracting process. Morgan's presentation will cover a variety of topics including:
A clear action plan for selecting and deploying contract lifecycle management in a global organization
Before and after results from Russell Investments' CLM implementation
Real-world advice on obtaining executive buy-in for a CLM system
This webinar is a part of the IACCM (now World Commerce & Contracting) VIBE Summit. Registration is required for entry.
Sign up for the two-day conference here.