In late September Spend Matters ranked Agiloft a Customer and Value Leader in its Fall 2020 SolutionMap for Contract Lifecyle Management Solutions. This is the fifth consecutive term Agiloft has been ranked both a Customer Leader and Value Leader in all four persona categories.
The CLM space has steadily expanded since Spend Matters' Spring 2020 SolutionMap, which evaluated 69 procurement software companies across 13 technology areas, based on both analyst technology assessments and customer scoring. This increased to 77 procurement software vendors across 16 categories in the Fall 2020 SolutionMap. Despite the expanding field, Agiloft has continually stayed ahead of the pack.
Nick Heinzmann from Spend Matters says:
"Agiloft is like a LEGO set in which the code bricks have been assembled to deploy systems for CLM and asset management, among other use cases. This has allowed customers to collect, store and track any and all contract data and attachments that an organization might require, as well as design custom workflows that tie into other systems, making Agiloft both a CLM tool and a broader system for business process orchestration."
As the CLM space has grown, so has Agiloft. 2019 was stellar year for Agiloft and 2020 is shaping up to be a banner year as well even with complications brought on by COVID-19. Agiloft has always placed a high importance on innovation, demonstrated by our consistently high analyst and customer scores. That includes being named a leader in both the Gartner Magic Quadrant and Critical Capabilities reports.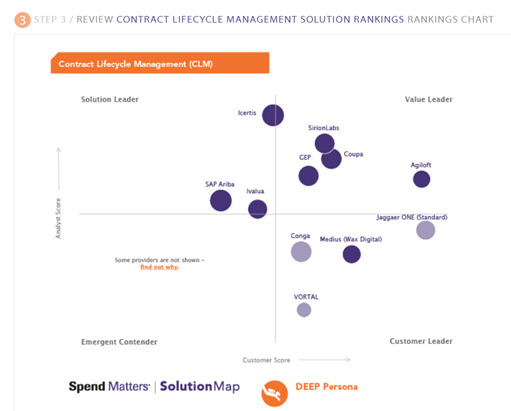 See the full Spend Matters Fall 2020 SolutionMap for Contract Lifecyle Management here.
Heinzmann also poses the following question:
"The potential for organizations looking to tap such powerful customization while obtaining core CLM capabilities are interesting, yet Agiloft, despite its age and consistently strong customer references, as illustrated its Value Leader ranking within our CLM SolutionMap, has never quite broken out as a well-known CLM pacesetter. Part of this has been a conservative approach to growth and investment — the vendor has historically focused its investment on product development, and it took on outside funding for the first time in 2020, nearly three decades after its founding.
But with a fresh round of external investment and a new CEO at the helm, is Agiloft positioned to break out of its no-code shell into a more widely acknowledged CLM pole position?"
By accepting outside funding and welcoming a new CEO, Agiloft strives to continually innovate, provide the best experience possible for our customers, and further establish ourselves as the obvious value leader in the CLM space.
To learn more, read the press release here.
To learn more about Spend Matters' buying personas, read the blog post here: