Happy New Year! 2020 was another monumental year for Agiloft, if not the year we had expected. While the pandemic raged, Agiloft weathered the storm and even hit some major milestones thanks to our hard-working employees, remote work culture, and focus on enabling cloud-based contract transformation for customers. From a $45 million growth equity investment from FTV Capital to appointing a new CEO and being named a leader in Gartner's Magic Quadrant for Contract Life Cycle Management, a lot happened these last twelve months. Read our biggest Agiloft 2020 highlights below.
January 15th: Agiloft achieves SOC 2 Type 2 certification
The SOC 2 Type 2 reports on internal controls to indicate how a company safeguards customer data and how well those controls are operating. This certification emphasizes Agiloft's commitment to ensuring protection of customer data. In 2019, Agiloft received its SOC 2 Type 1 certification, validating the company's practices, policies, and procedures are approved to handle the data privacy concerns of the largest enterprises in highly regulated industries. Read the release.
February 25th: Agiloft announces AI engine for advanced contract automation on no-code platform.
Agiloft's Winter Software Release featured out-of-the-box AI Capabilities and custom AI functionality that empowers Agiloft customers to drive contract value across the enterprise. Learn more.
February 28th: Agiloft named a Leader in 2020 Gartner Magic Quadrant for Contract Life Cycle Management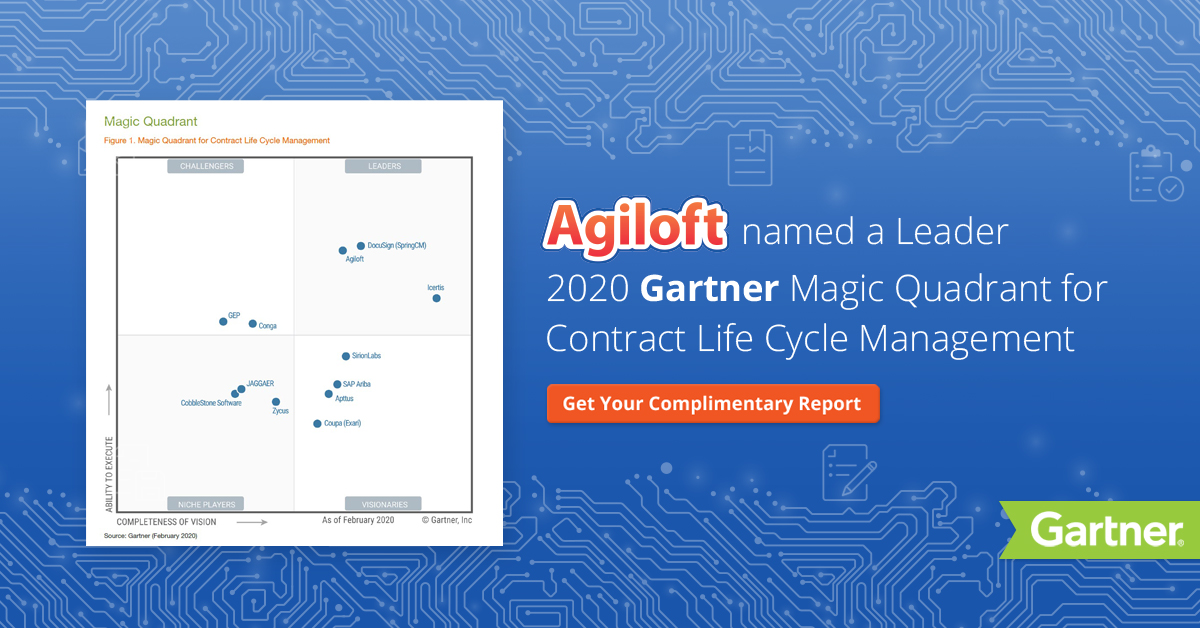 Lost in the coronavirus clamor—rightly—was the news that Agiloft was recognized by Gartner as a Leader in its 2020 Magic Quadrant for CLM. Get the Report.
March 14th: Agiloft received highest scores in 2020 Gartner Critical Capabilities for Contract Life Cycle Management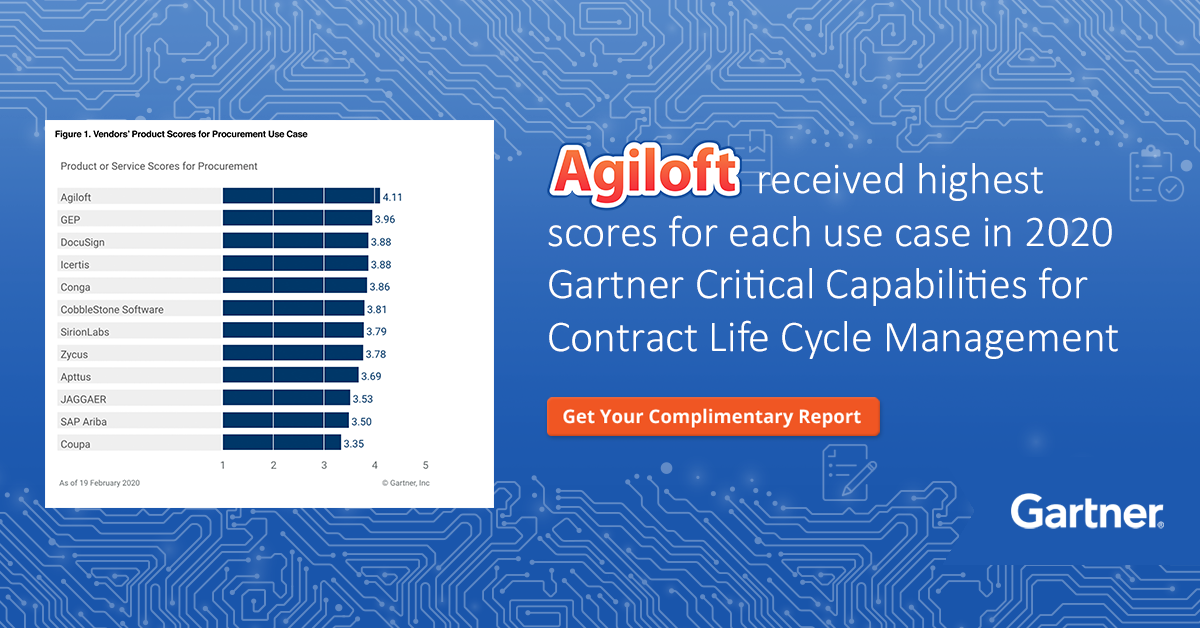 A few weeks after the Magic Quadrant, Gartner awarded Agiloft the highest vendor performance rating in all four Use Cases (Procurement, Sales, Legal, and Enterprise) in the 2020 Gartner Critical Capabilities for Contract Life Cycle Management. Learn what Gartner's Critical Capabilities report is all about, and get the report.
March 26th: Agiloft ranked a value and customer leader in Spend Matters' Spring 2020 SolutionMap for Contract Lifecycle Management
Agiloft's no-code CLM platform received top ratings by Spend Matters for fourth consecutive quarter, adding to a steady cadence of major industry distinctions.
May 20th: Agiloft wins Silver Stevie in 2020 American Business Awards for new AI-powered CLM software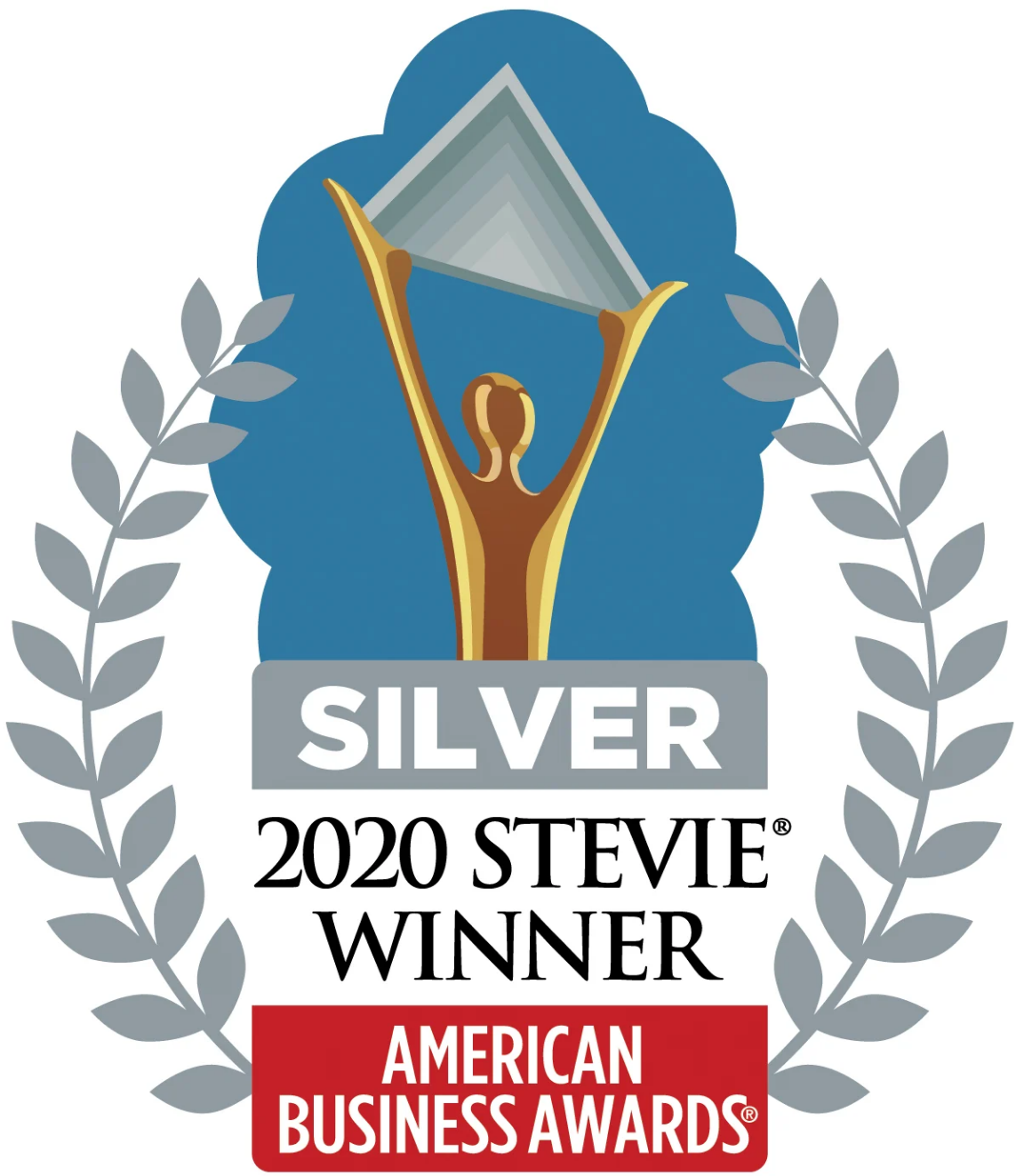 Agiloft was honored with a Silver Stevie for Achievement in Product Innovation for its AI-based Contract Lifecycle Management Platform. Read the release.
August 17th: Agiloft announces $45 million growth equity investment and new CEO, Eric Laughlin
Agiloft was delighted to announce a $45 million growth equity investment from FTV Capital and welcome legal tech and services veteran, Eric Laughlin, as Agiloft's new CEO. The investment from FTV was Agiloft's first round of external funding and is helping us accelerate product development and scale to provide the best experience and value to our customers. Colin Earl, Agiloft's founder, assumed the role of Chief Technology Officer. Read the release.
September 2nd: Agiloft appoints Kevin Niblock Chief Revenue Officer to lead sales expansion
IT and contract management industry veteran Kevin Niblock joined Agiloft's leadership team to help accelerate growth and scale the organization. Read the release.
October 7th: Agiloft ranked value leader in Spend Matters' Fall 2020 CLM SolutionMap
This is the fifth consecutive SolutionMap report ranking Agiloft a customer and value leader in all four Spend Matters' buyer personas. Read the report.
November 11th: Agiloft announces advances in AI engine, usability, and integrations to accelerate enterprise contract transformation
Agiloft's Fall 2020 release included updates to Microsoft Word Add-In, Dell Boomi Connector, Tableau, and more, providing a major increase in usability and integration of Agiloft. Watch a replay of the Fall 2020 Release.
December 4th: Agiloft and Children's National Hospital (CNH) nominated for Financial Times' Intelligent Business Award for Intelligent Contracting
Using Agiloft's no-code contract management software, CNH cut its contract turnaround time in half, earning the Financial Times nomination alongside other leaders in contract automation. Learn more about why Financial Times nominated Agiloft/CNH on the blog.
December 8th: Agiloft launches revamped Partner Program to accelerate growth and customer success
With a 300+% increase in channel revenue over the last year, Agiloft's newly positioned program now prioritizes the channel for resale, services, and technology innovation via enterprise integrations, enabling partners to deliver powerful customer solutions with Agiloft's CLM platform. Learn more.
December 10th: Agiloft rated highest by clients on Gartner Peer Insights
Last but not least, Agiloft achieved the highest rating among Contract Life Cycle Management vendors on Gartner Peer Insights. Contracting professionals who left reviews in the last 12 months rated Agiloft 4.9 out of 5 on average. Gartner Peer Insights is an online review site created by users of professional software for professional users. Read the reviews.
Wishing Everyone a Happy New Year and a healthy 2021!