Last week we announced Agiloft's Fall 2020 Release, outlining the new features coming to the platform this fall and previewing some exciting enhancements coming to the GUI next month and beyond. With this release, Agiloft Senior Implementer Craig Gordon showed us the key features including a new Microsoft Word Add-in as well as integrations with Tableau, Salesforce, and Boomi. On top of that there was a significant upgrade to AI training and changes to the user interface. We'll go through these items below and provide links to more information.
Watch the Agiloft Fall 2020 Release Webinar below:
If you would like to read the complete release notes for the Fall 2020 Release, please click here. Also, please refer to our What's New wiki page for more technical details of these enhancements.
AI Training
Improved semantic modeling and addition of data points that cover most common contractual use cases. This enhancement improves out-of-the-box AI usability, lowers data migration costs, and saves time spent on contract review. It now only takes 2-5 seconds to analyze documents compared to the 2 minutes it took before. These improvements to Agiloft's AI Capabilities are also available directly in Microsoft Word through the new Word Add-In.
Read more on AI training on the wiki here.
Microsoft Word Add-in
New feature provides Agiloft functionality directly in MS Word, enabling contract creation, review, and redlining as well as AI-based analysis, metadata and clause extraction, and risk scoring in MS Word with all changes simultaneously updated within Agiloft. With Agiloft's CLM functionality and AI Capabilities available directly in MS Word, users can analyze, review, and negotiate contracts faster and with more accuracy than ever before.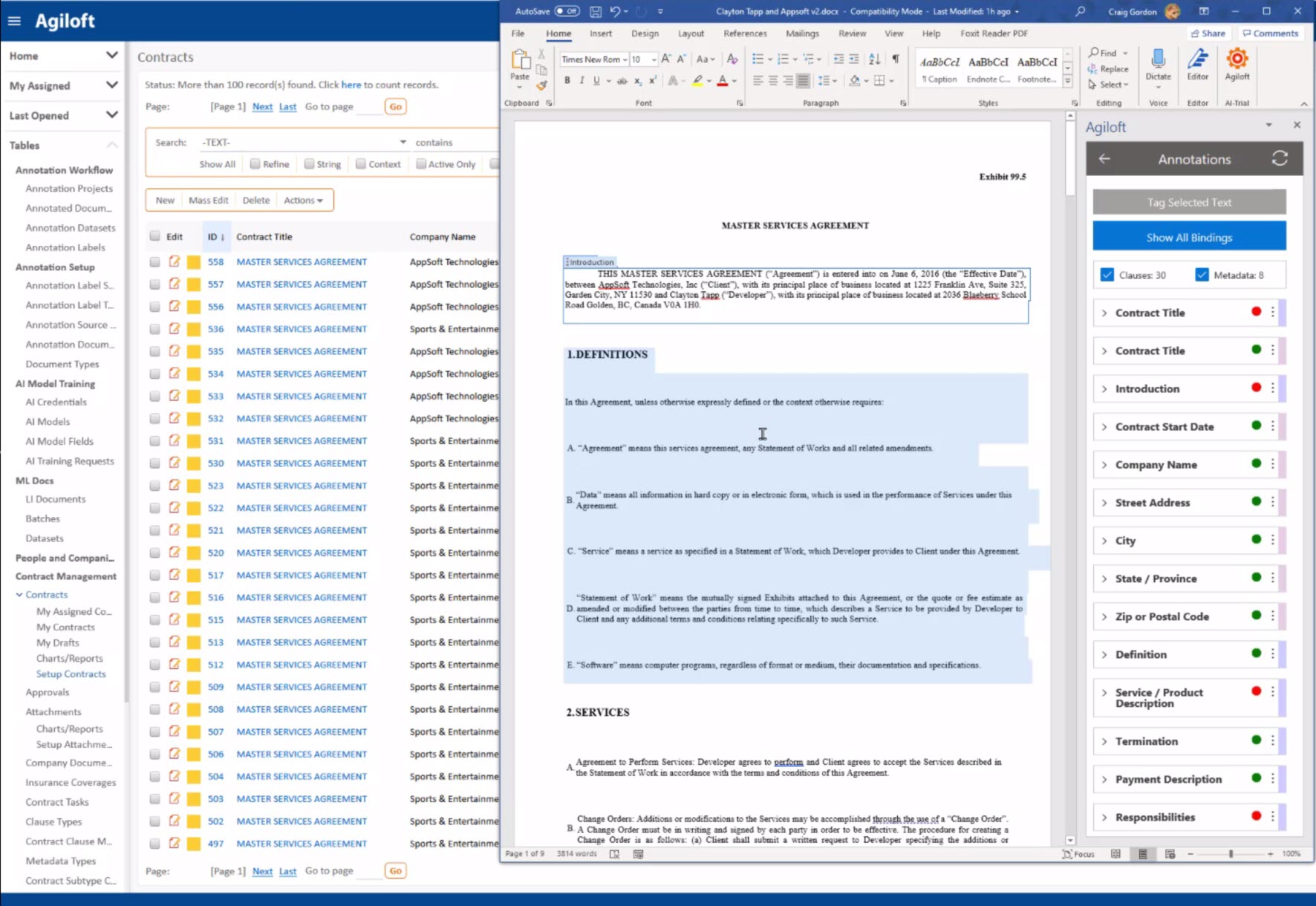 Read more on the Word Add-In, including configuration and setup here.
Boomi Connector
Organizations can now integrate Agiloft with large application ecosystems such as ERP, CRM, and more through Boomi's cloud-native integration platform, streamlining the configuration and maintenance of complex workflows to enable true CCLM across the enterprise with contracts at the core of all commercial activity.
Read more about the Boomi Connector on the wiki here.
Out-of-the-box Tableau integration
This new easy but powerful integration provides one simple step for syncing Agiloft with advanced data visualizations in Tableau. This is in addition to Agiloft's robust native reporting capabilities. Connect Agiloft data to Tableau by using any saved search as a Web Data Connector (WDC). This allows you to pull the saved search data into Tableau for analysis. You can configure multiple connectors using any number of saved searches.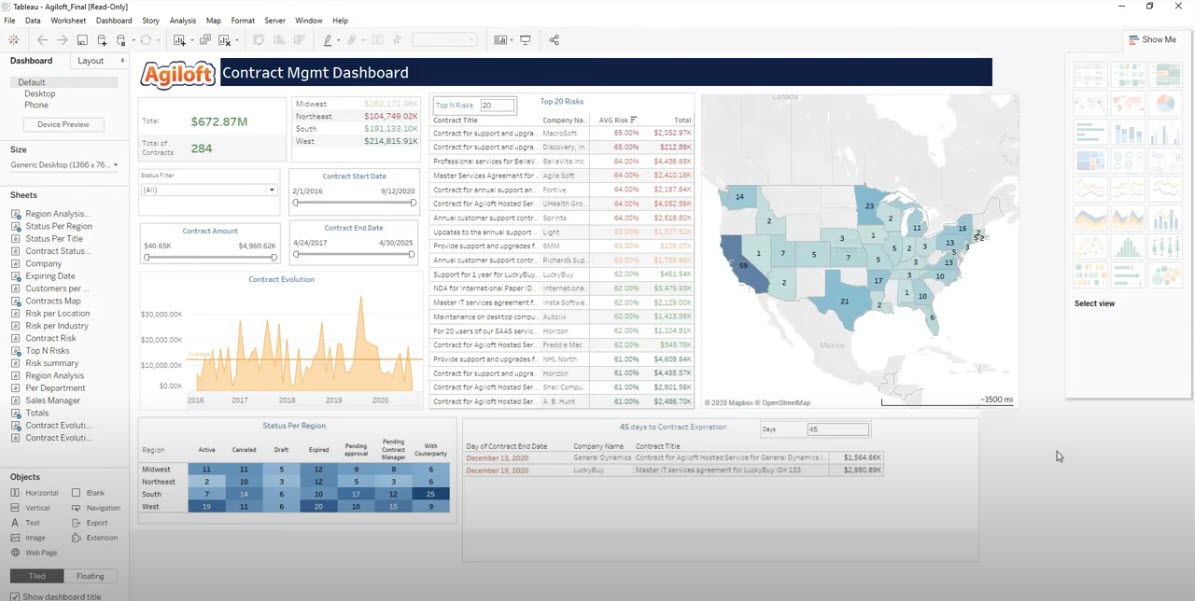 Read more about the Tableau integration and setup on the wiki here.
Real-time Salesforce integration
We also significantly updated Agiloft's prebuilt Salesforce integration. This extended ESA-based integration allows instant, bi-directional updates to individual records and contracts via configurable event triggers originating in either system. This means that when you update a contract, company, or any field in either Agiloft or Salesforce, the change will be reflected in both systems.
Read more on this updated Salesforce integration on the wiki here.
GUI enhancements
Enhancements include new modal windows for quicker access to common tasks as well as dialogue windows, updated top toolbar, and customizable secondary buttons to provide more user guidance.
See these GUI updates on the wiki here.
Bonus: Sneak peak of the new top menu bar
Craig also showed off the upcoming top bar menu (instead of the left pane) that will be released in early 2021. See it below.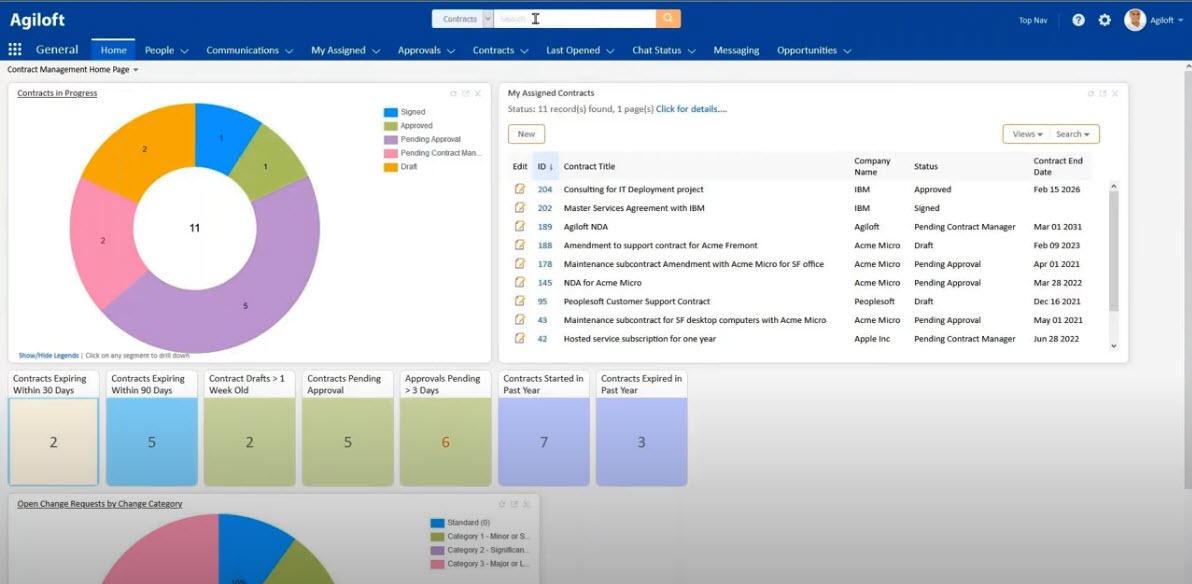 To learn more about the new release, please read the Release Notes and the What's New page on the Agiloft Wiki.
If you are interested in deploying the Agiloft Word Add-in or any of these new enhancements, please contact your customer success manager or submit a support ticket to request the upgrades.